The best burger places in Chandigarh
Are you looking for places to have the best burgers in Chandigarh? Well, look no further, because we have just the thing for you. This list of places that serve the best burgers in Chandigarh is the best guide and navigational tool to cross all the best burger places off your foodie's Wishlist without the unnecessary hassle of ever tasting a bad burger.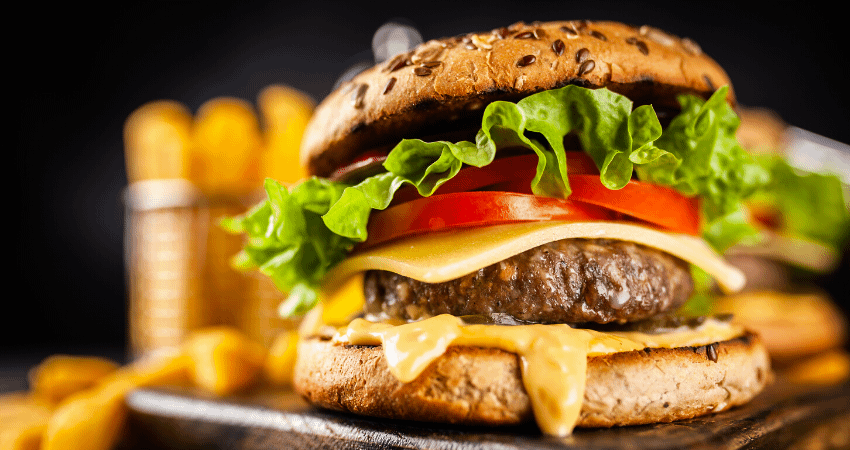 Burgers are possibly the most fulfilling food item when it comes to fast food. Just the thought of a perfect bun filled with savory sauces, veggies and a juicy, crispy patty, is enough to make one's mouth water. Earlier, Burger used to mean either McDonald's or Burger King, but now with the amount of innovation coming into the food industry, there are a number of new burger joints coming up in Chandigarh which can easily give McD's a run for its money. 
If you are a foodie that loves burgers as much as we love helping our readers, we have a list of the best burger places in Chandigarh for you to explore. All of these places serve the best burgers in Chandigarh. We are sure that none of these places will disappoint you in the very least. We also mention the location, the price range as well as the best selling burger for each of these burger joints. Be sure to try out each and every one of these places so as to pick your favorite place for the best burgers in Chandigarh.
1. Aja, Fresh, Grilled and healthy burger in Chandigarh
Address: 130, S.c.o 129, 131, Madhya Marg, Sector 9C, Chandigarh, 160009
Opens 11am –  Closes 10PM (Monday to Sunday)
Phone: 098887 88802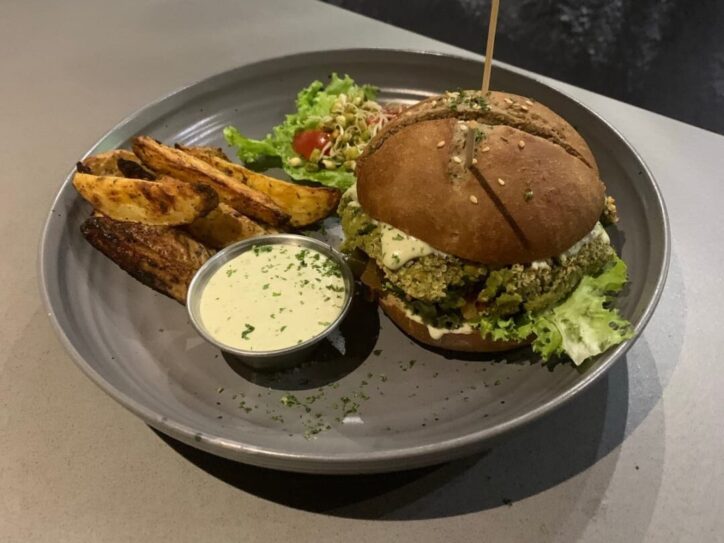 Let us start with the healthiest option first. AJA is a burger joint that offers some of the most delicious burgers in Chandigarh. The most amazing thing is that you can devour your burger without feeling guilty about the calories you are gaining. You know why? Because every dish on the menu at Aja's is a 100% healthy choice. The food joint started out with the aim to make healthy food more appealing and to make fast food healthier. And boy, have they succeeded! The burgers at Aja are as delicious as they are nutritious. They make sure to use fresh, organic and the best quality ingredients for all their burgers. They serve whole wheat buns, which are much healthier than refined flour used for buns otherwise. Their food is not at all oily and is possibly the best choice you can make for your intestines if you are craving a burger.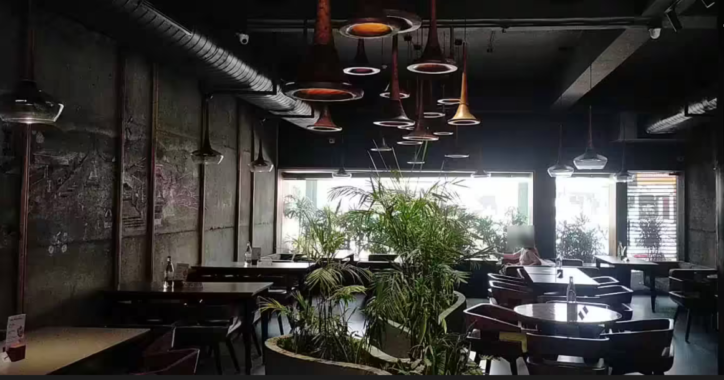 The burger joint has a very soothing atmosphere which makes it a great place to hangout with your friends. They have a number of vegetarian as well as non-vegetarian options when it comes to burgers.
Some of their most popular burgers are: Pulled Jackfruit Burger, Vegan Tofu Peri Peri Burger and BBQ Chicken Burger, Peri Peri Chicken Burger and Pulled Mushroom Burger.
2.  Brooklyn Central 
Address: Coal Depot Complex, Sector 10 D, Near Sector 10, Chandigarh, Sector 10, Chandigarh
Phone: +918146332142, +911724038358
Opens 10 am – Closes 10 pm (Mon – Sun)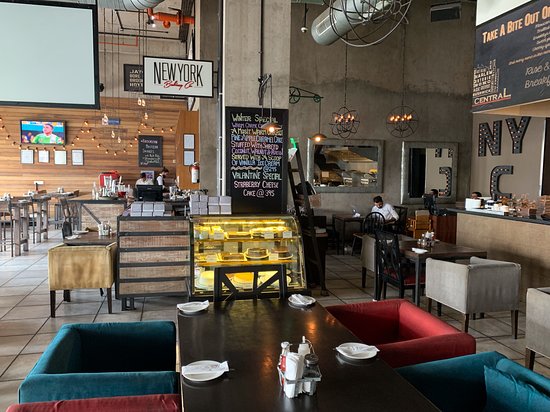 If you want a taste of the authentic American Burger, Brooklyn Central is the place to go to. With a quaint ambience and indoor/ outdoor seating options, and of course, the absolutely lip-smacking burger, Brooklyn Central is becoming the go-to burger joint in Chandigarh. The burgers at Brooklyn Central are really amazing. The only downside to this place is the service is a little slow. But that will not hamper your experience as the ambience has a lot to offer to keep you entertained., especially at the Brooklyn Central in Elante Mall, Chandigarh. They are known for their american style cuisine and for the outdoor seating that they offer. Both the locations, sector 10 as well as Elante, have great burgers and you won't regret going there even one bit. The beverages here are moderate tasting. It is especially known for its lasagna which is one of the most ordered dishes.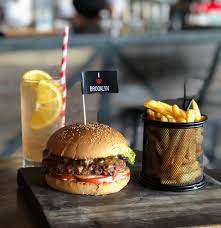 Their Jameson lamb burger and Jersey style chicken BBQ burgers are some of the best selling non-veg burgers, while their Brooklyn's Denver Burger is a great option for veg burgers. 
3. Burgrill 
Address: Industrial areas, Phase-1, Chandigarh
Phone: 0172-5100034
Opens: 11:30 am closes 10:30 pm (Mon to Sun)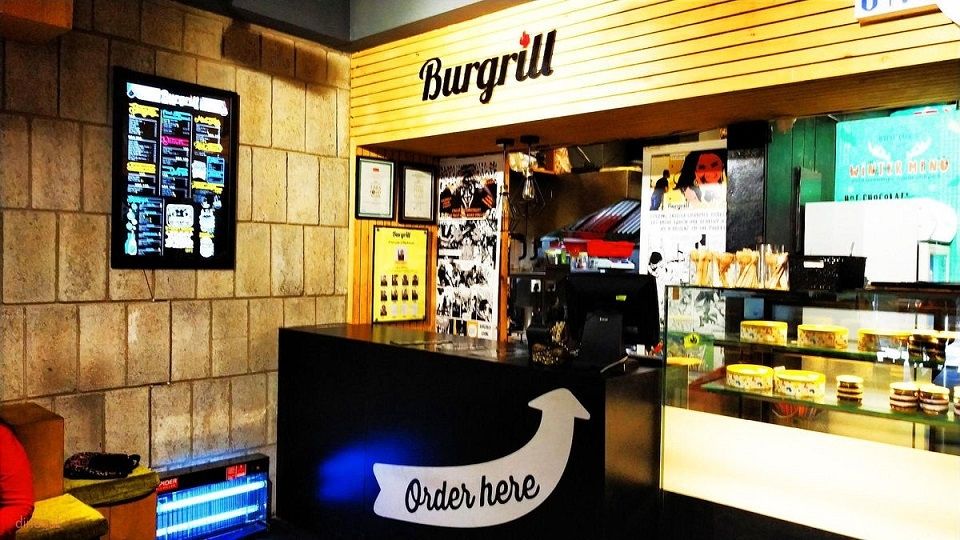 Another quite famous place to grab a burger from is Burgrill. What makes Burgrill one of the best burger places in Chandigarh, you ask? Well, to put it simply, their burgers taste heavenly. They have a wide variety of options for both veg as well as non-veg burgers. And that at a very reasonable price makes the burger even more fulfilling. 
Burgrill serves whole wheat bun burgers filled with flavour oozing out of every bite. It is one of the only burger places in Chandigarh that offers gourmet flavours in their burgers. They offer amazing burgers, quick service as well as a great selection of beverages to go with the burgers. All of these reasons have made Burgrill one of the most loved burger places in Chandigarh in a very small span of period. Burgrill has a number of convenient locations all over Chandigarh tricity including sector-8, phase-3 in Mohali, sector- 9 in Panchkula, kharar road, sector 67 in Mohali as well as VIP Road, Zirakpur.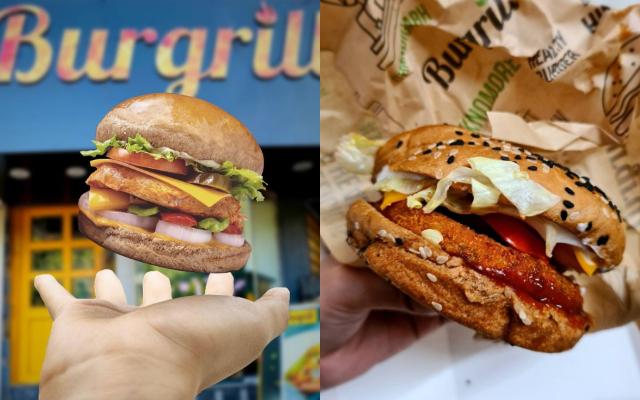 Each of these burger outlets offer you a great ambience to hangout, amazing food, complemented by quick service. Burgrill really does have the best burgers in Chandigarh.
Some of their most ordered Burgers are: Heavyweight Burger, Butter Paneer Burger, Cheese Mutton Quarter Pounder. Besides burgers, you can also try their African Peri Peri' or 'Bacon, chilli and Cheese' fries.
4. Chilli's 
Address: 312 B, 3rd Floor, Elante Mall, Phase 1, Chandigarh Industrial Area, Chandigarh.
Phone: 0172 456 8333
Open 12 pm- closed 12 am (Mon to Sun)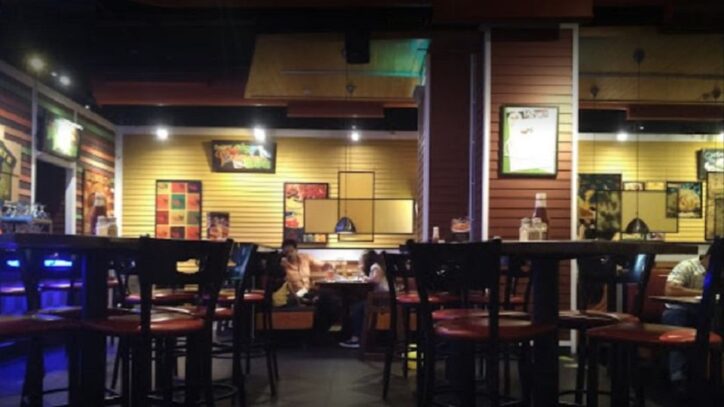 Have you tried Tex-mex american style cuisine yet? If not, then we insist you visit Chilli's. This food joint has some of the most delicious burgers filled with cheese and overloaded with veggies and sauces. It will give a taste of the genuine american style burger and make you fall in love with burgers, if you don't already love them immensely. The restaurant offers a wide range of Mexican and American cuisine dishes. Including their gigantic, juicy burgers. The best part about Chilli's is possibly the quantity of food that they offer. The size of the burger will make you question whether or not you would be able to finish it yourself. But trust us, once you have that first bite of the burger, you would not want to share it at all.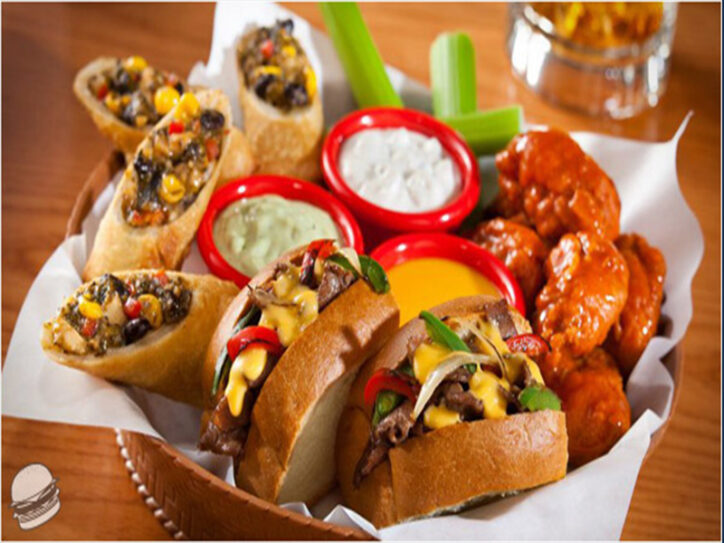 Chilli's wants you to make an informed choice about the burger you want, so, they offer burger bite samples, to give a sneak peak of the lip-smacking treat they behold. You can try their Burger Bites which offers 4 mini burgers with smoked bacon, cheddar cheese, sautéed onion and house-made jalapeno aioli.
Some of their best burgers are Old Timer Burger which features the Chilli's classic hand-seasoned patty; The Ultimate Bacon Burger, and Malibu Chicken Burger. 
5. Super Donuts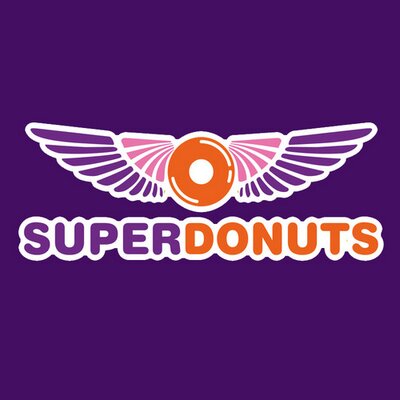 Address: SCO-15, Sector-8 (Inner Market, Chandigarh 160018
Opens 9 am – Closes 11PM (Mon – Sun)
Phone: 0172 500 5959
Another name that has got to be on the list of the best burgers in Chandigarh, is Super Donuts. We know what you are thinking, how is a donut place supposed to make the best burgers in Chandigarh? But trust us when we say, Super Donuts has some of the best burgers in town. Their burgers are known for the perfect balance of herbs and spices, the juicy patty and the soft buns. Their Herb Chilli's burger is undoubtedly one of the best burgers in Chandigarh. They not only offer great burgers but also a very adorable interior.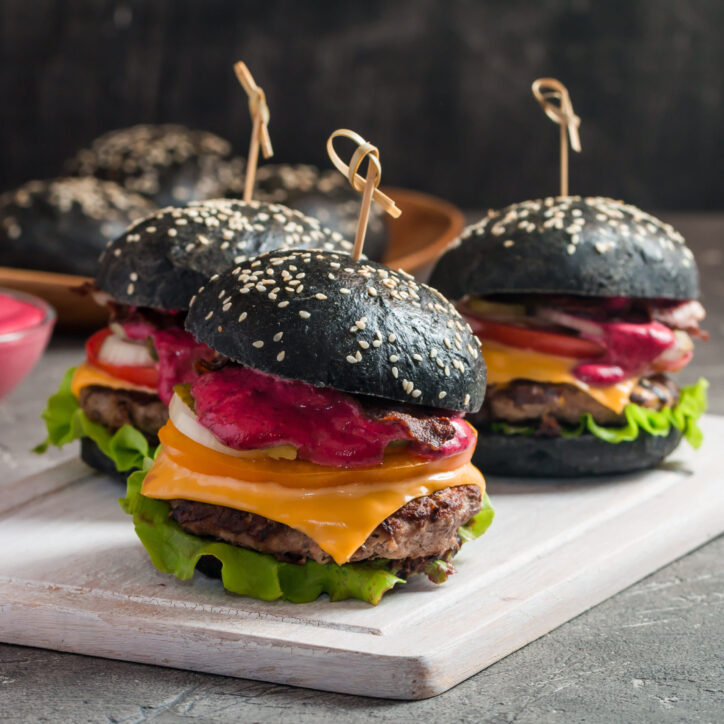 This place will give you plenty of places to click the perfect Instagram picture to show off your fun lunch date with your friends. The outlet maintains utmost hygiene and sanitation in preparation of food as well in serving it. The service is quick and effortless, and the wait staff would even give helpful tips on what beverages or side dishes to order to go with your food.  
Some of the burgers that you must try when visiting Super Donuts are: Big Black Burger, Black Bean Burger, Junior Jack burger. 
6. Dunkin Donuts: 
Address: SN 2, Gr Flr, DLF Citycentre Mall, IT Park Rd, Phase – I, Manimajra, Chandigarh, Haryana 160017
Phone: 0172-4672666
Opens: 11 am – closes: 10 pm (Mon- Sun)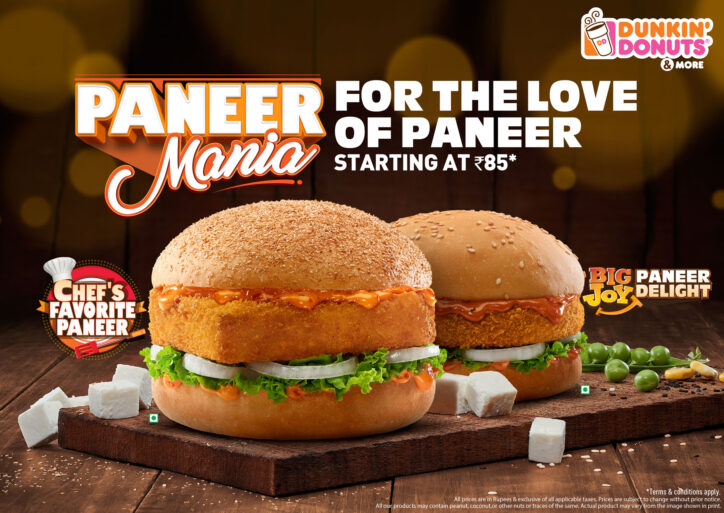 Another surprising name in the list of the best burgers in Chandigarh is Dunkin Donuts. Dunkin Donuts has some of the best chessy. Juicy burgers for you to bite into on your cheat days. With a very homely ambience, and a team of very helpful staff members, Dunkin Donuts has earned quite the reputation for itself. While its donuts are wildly famous, not many people know that their burgers are just as delicious as the donuts. They offer burgers that are quite a mouthful. Be sure to take someone with you when you go out to try their burger, because we were not kidding when we said the burgers are mouthful. The sheer volume of the burger will leave you salivating for more. But the burgers are so big that it is not possible for one person to finish a burger on their own. Some of the must try burgers at Dunkin Donuts are Heaven Can Wait for burger, Naughty Lucy Veg Burger, 
This brings us to the end of our list of the best burgers in chandigarh. Needless to say, that a true foodie would make sure to visit each one of these places to check out their burgers. But even if you are not a foodie, we insist you try out at least a few of these. Try the burgers , and thank us later!