Book stores in Chandigarh 
Are you looking for book stores in Chandigarh? If so, then this post is for you.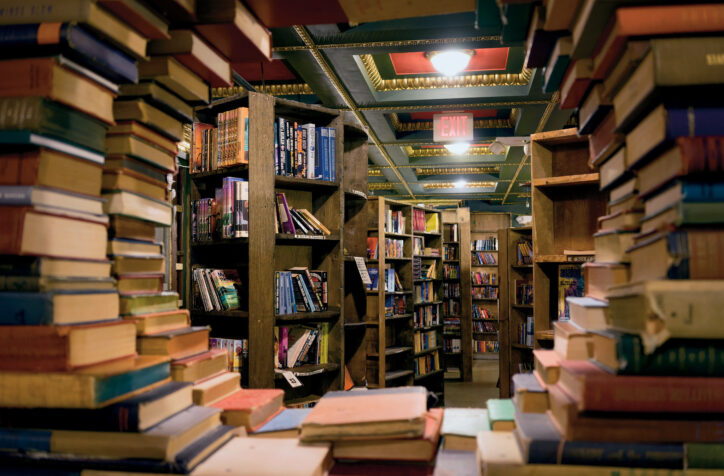 Chandigarh being the home place for some of the most famous colleges and universities in Chandigarh, it flocks a number of students from the neighbouring states. This makes it very important to have several book stores with the best and the cheapest books in town. And there is no dearth of book stores in Chandigarh. Whether you are a student looking for books for your courses or just an avid reader looking to buy your next batch of leisure reading, there are several book stores in Chandigarh with all kinds of books for you to pick from. 
And this list will help you navigate through the various bookstores in Chandigarh, so that you can find the best one to find what you are looking for. This list of bookstores in Chandigarh contains all the information you might need like the location and kind of books available. 
AMIT BOOK DEPOT
Address: Ground SCO 210-211, Ground Floor, Sector-34 A, Chandigarh, CH 160022
Phone: 0172 2665665
Timings: Mon-Sat: 10:15am – 8:45pm, Sun: 11am – 8pm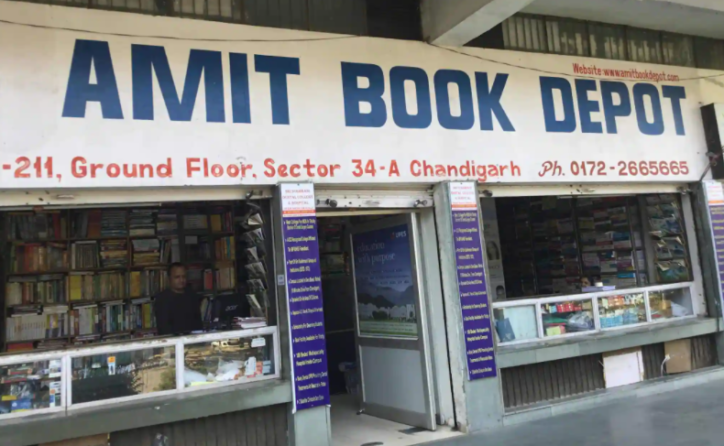 Amit Book Depot is one of the best bookstores in Chandigarh when it comes to books related to competitive exams or any other course books you are looking for. It deals in the top quality stationery items both online as well as offline. The best thing about Amit store is that they price the items very justly and do not try to make profits by ripping students off. Apart from the books for competitive exams, they also provide students with information about the admissions and entrances as well as forms that may be coming up. They have created a very student friendly environment in their store and their staff is very cooperative. You can find almost any book you are looking for at this store. Whether you want a new handout of a book or a second-hand copy in good condition, you can find it at Amit bookstore.  They have books related to IIT, JEE and UGC examinations. Apart from the course books they also have a collection of Biographies for anyone looking for a good non-fiction reading experience. 
THE ENGLISH BOOK SHOP
Address: SCO 31, Bridge Market, 17C, Sector 17-E, Chandigarh, CH 160017
Phone:  0172 270 2542
Mon-Sat: 10:30am – 9:30pm
Sun: 12am – 8pm
Now, this is a bookstore that will make you fall in love with books themselves. If you are someone who enjoys reading, we bet you would absolutely love this bookstore. The English Bookstore has a vast collection of books from all genres from fiction to fantasy to non-fiction and poetry. Their entire store is designed to display the vast array of collections that they possess. The interiors and the layout of the bookstore will just make you never want to leave it, especially not empty handed. You are sure to find whatever book you are looking for at this bookstore, be it an English Essayist's collection of works, or an Urdu poet's anthology. They even have books to cater to younger readers and even children of all ages. 
The staff at the bookstore are also very cooperative and will help you find any book you are looking for. The large space layout of the bookstore allows you to browse around and select a book in case you do not have any one book you are looking for. The English book store is definitely one of the best bookstores in Chandigarh. And because it has been around since 1952, it has earned quite a reputation for dealing in only the best quality stationary and books.
Universal Book Shop
Address: Shop No. 68, Near Musical Fountain, Sector 17-D, Chandigarh
Phone: 94170 13217
Monday -Sunday: 10:30 am- 9 pm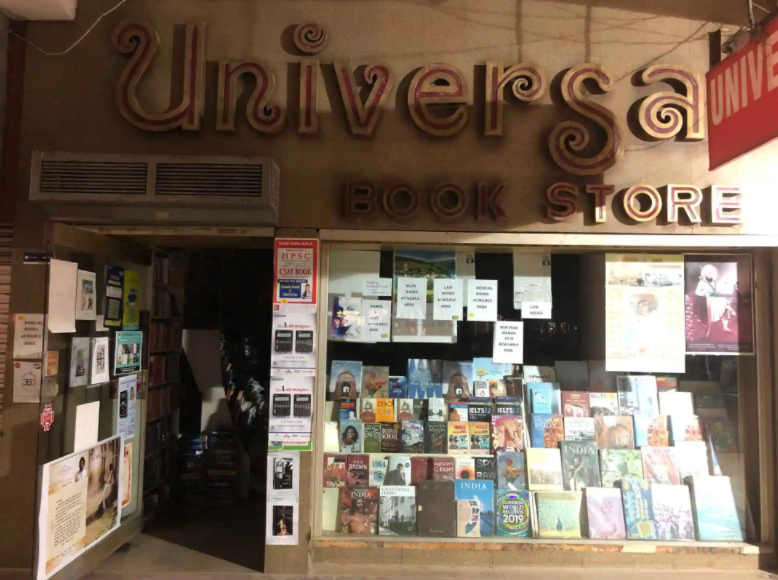 Universal book shop is another one of the oldest bookstores in Chandigarh, which has grown to be one of the biggest bookstores in Chandigarh. They have a vast collection of books both course related as well as for extra reading. They have books related to competitive examinations, books for BA, MA, Bsc, MSc, and many other courses. It is also the bookstore, where you can find some of the rarest novels and fictional books. They also have an impressive collection of non-fiction books like autobiographies and biographies by famous people, documentaries, self-help books and much more. Universal Book Shop has been around for a long time and has become a reliable source of books and stationery for generations of people. This makes it one of the best bookstores in chandigarh. They have a display of books in their bookstore which allows you to browse around and explore new books. 
The staff is also very helpful, and will guide you in finding the book you want. They would even suggest some related books that you might like from a similar genre. So, you can be eased in knowing that if you visit Universal Book Shop, you will not return without a great book to read. 
Kumar Book Depot
Address: SCO 358-359 g.floor, Sub. City Center, Sector 34A, Chandigarh, CH 160022
Phone:  92161 58777
Mon-Sat: 10am – 8:30pm
Sun 10am – 7pm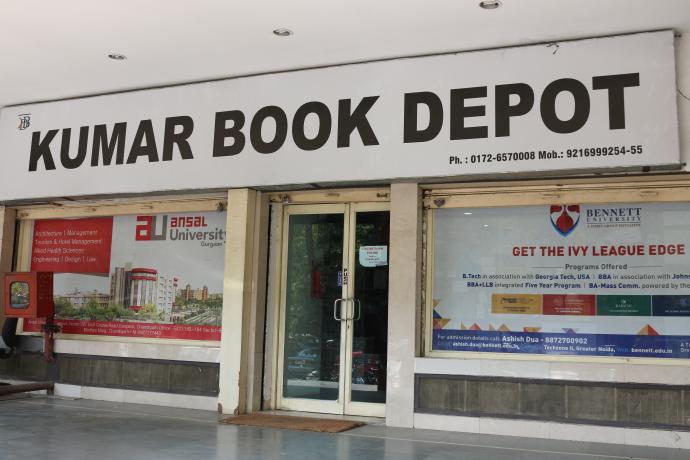 Kumar Book Depot is another well known bookstore in Chandigarh, which is also a publishing house for books. They have a speciali service wherein they offer to their customers an online form filling facility for all medical & engineering entrances.They deal in all study material and books related to NCERT, Competitive exams like JEE- IIT, NEET AIIMS, IAS, UPSC, NET and much more. You can find books from the most famous to the rarest publishers and authors. The staff helps you navigate and find the best books for your purpose. 
They do not just have books related to courses, but also house a large collection of fiction and nonfiction books for readers of all genres. In their collection of books, you can find books from almost all famous authors whether Hindi, English, or Urdu.
The Kumar Book Depot is known for their quality stationery and books as well as for their impeccable customer service. It is definitely one of the best bookstores in Chandigarh. 
Variety bookstore, Chandigarh. 
Address: Address: SCO-69, Bridge Market, 17D, Sector 17, Chandigarh, 160017
Phone: 094785 53194
Timings: Monday- Saturday: 11 am- 8pm | Sunday: 12 pm- 8pm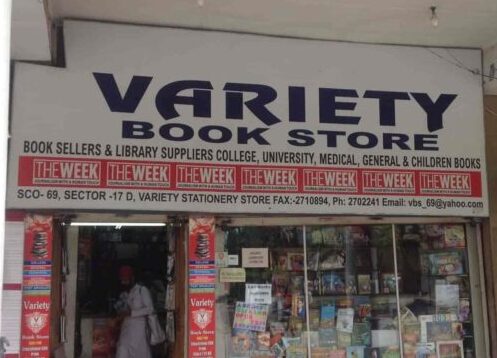 Variety bookstore in Chandigarh really lives up to its name in that they really do have a vast variety of books for readers and students to choose from.  It has been around since 1970 and has grown to become the choice of bookstore for many of the city's residents. It is also the bookstore tha supplies books to the libraries of a lot of private as well as public educational institutions in Chandigarh. They provide high quality books as well as stationery. They have books related to almost every course and competitive exam study material available with them. Not just this, they also have a collection of some of the best Novels and nonfiction books for you to choose from. 
The staff at Variety bookstore can help you find the book you need and also help answer questions related to books. Having been around for a long time, they are aware of the book labels and names that are the most commonly used for almost every course. 
Ram book Depot
Address: 142-143, MCM DAV Road,, Sector 36-D, Sector 36, Chandigarh, 160036
Monday- Saturday: 10 am- 8:30PM
Sunday: 10 am- 7 pm 
Phone: 0172 261 4723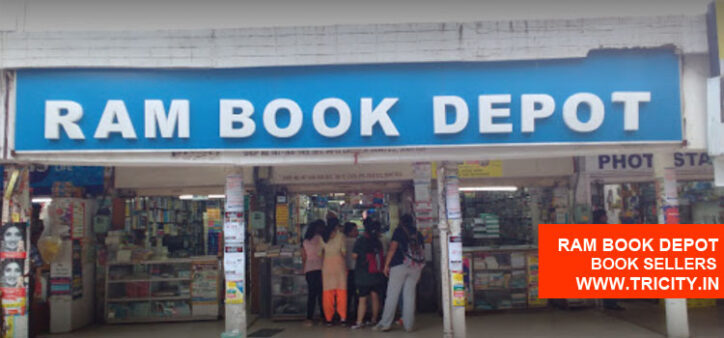 Ram book depot is another book shop in Chandigarh that has almost every course book available with it. Apart from this they also have books related to almost every competitive exam. The best part about Ram book depot is that they deal in second hand books as well, so if you want you can sell off your old books at the store and buy new sets of books at a great price. It is close to MCM  DAV college which makes it a hub for all the students from MCM. It also ensures that Ram Book Depot has a collection of almost all course books from Ba, Bsc, MA, Msc, BCA and any other course subject you could name. They have quick service and very reasonable prices. If you are a student looking to buy books at a pocket friendly price, Ram Book Depot is the bookstore for you. 
Popular book Store
Address: SCO 5-6, Sector 22-D, Sector 22, Chandigarh, 160022
Phone: 0172 270 0349
Monday- Sunday:10am–2pm, 3–8pm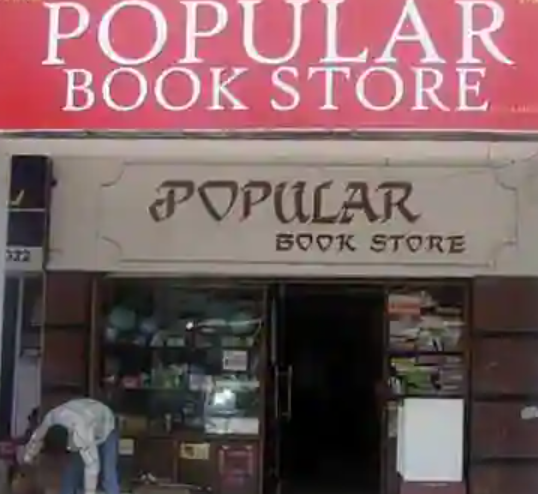 Popular book Store is one of the oldest book stores in Chandigarh and is known for its top quality books and stationery supplies. You can find almost all books at this book store and it is a paradise for every person who loves stationery and books. They also offer home delivery for school books sets. They are known to offer books and stationery at a very reasonable price and with quick service. 
No matter if you are looking for course books, or for novels to read, a popular book store in Chandigarh has all kinds of books from all genres and authors available with them. Hence, earning the reputation of one of the best bookstores in Chandigarh. 
This brings us to the end of our list of the best places to buy books from in Chandigarh. These bookstores are sure to help you find the books you are looking for.